The Association des écoles supérieures d'art du Québec (ADÉSAQ) is a non-profit organization that brings together and represents some thirty art schools which each year welcome close to 2,000 students seeking professional training, as well as some 30,000 others who attend them as part of their preparatory or continuing education, or personal development.
Our member schools specialize in training the next generation of artists in the performing arts, digital arts, as well as in arts and crafts. The technical training programs of each of these educational institutions are accredited by the ministère de l'Éducation et de l'Enseignement supérieur and/or the ministère de la Culture et des Communications.
The Association des écoles supérieures d'art du Québec (ADÉSAQ)'s mission is to promote dialogue and the sharing of ideas, experience and expertise between its members, thereby furthering their development and the advancement of professional training in various artistic disciplines in Quebec.
L'ADÉSAQ acts as a catalyst to the network's driving forces. Its activities based on dialogue and the sharing of ideas have led to the realization of various projects and training activities aimed at improving practices within the organizations as well as the advancement of higher education in the artistic disciplines of its members.
The Association des écoles supérieures d'art de Montréal (ADÉSAM) was founded in 2002 and became the Association des écoles supérieures d'art du Québec (ADÉSAQ) on May 23, 2019.
Through dialogue and the sharing of ideas, various projects and activities emerged addressing specific needs or proving to be beneficial when jointly carried out. Student activities and customized training, joint arts projects (shows, films, interdisciplinary labs), several guides to support institutions, and helpful information for studies, dissertations, and performance.
For students and recent graduates, activities are designed to break down the barriers to interdisciplinary exchanges and foster networking. Every year since 2009, ADÉSAQ Day (Journée ADÉSAQ) has provided an opportunity for nearly 175 students from the various institutions to partake in a day of training at a school other than their own. This unique experience allows them to discover new dimensions of artistic expression and to connect with other emerging artists.
In 2013, ADÉSAM celebrated its 10th anniversary with the first edition of a show created to involve all the schools and disciplines. The second edition took place on April 11, 2015, at Club Soda in Montreal, this time as part of the Festival Vue sur la Relève. 
In 2017, for Montreal's 375th anniversary , the Association produced a short film entitled ASPIRATIONS, an ambitious joint project carried out in collaboration with emerging artists and showcasing all the disciplines taught in our member schools.
In 2019 and 2020, the Association and 9 participating schools ran a campaign for the promotion of the French language, reaching 4,000 students and employees. The release of the documentary Créer en français on the television channel of Savoir média also enabled the general public to gain an understanding of the language issues faced by students within the network.
In 2021, as part of a project on the ethical, legal and professional use of social networks, ADÉSAQ produced a series entitled Artistes et réseaux sociaux : une relation d'amour-haine?, primarily for an art student audience, but also instructive for artists and even social network users. The video capsules deal with self-promotion on social networks, their time-consuming aspect, undesirable comments, the question of copyright and the dissolving of the boundary between the private and professional spheres. Twelve artists share their experiences and thoughts. Knowledge and advice are provided by eight experts from different fields: digital communications and marketing, psychology, philosophy and copyright. The project, which is part of Quebec's Plan culturel numérique, also delivered the Guide pour l'élaboration d'un protocole d'utilisation des réseaux sociaux to the administrations of member schools. The project won the 2022 Je célèbre, donc je suis award in the Training and skills development category, a Compétence Culture award financially supported by the Conseil des arts et des lettres du Québec and the Conseil des arts de Montréal.
In 2022-2023, ADÉSAQ is the main partner of Compétence Culture's Culture et moi project, which consists in a vast campaign to promote and enhance the value of the arts and culture professions, in partnership with the Government of Quebec.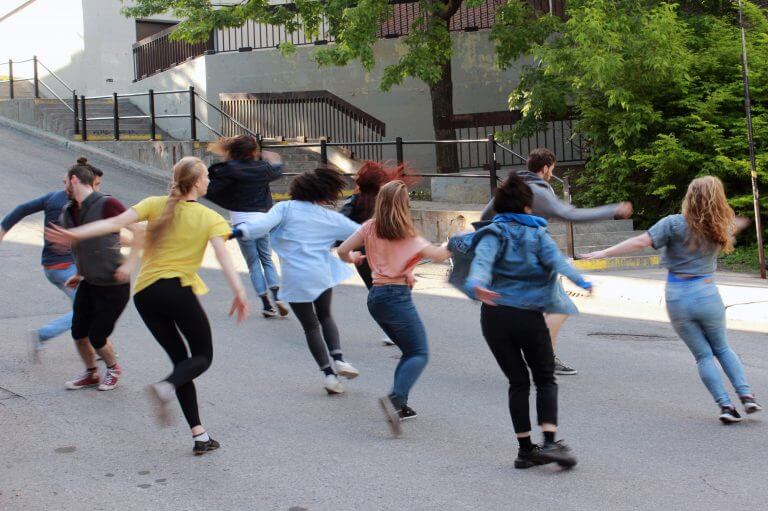 Our Team and Board of Directors
ADÉSAQ is governed by a Board of Directors made up of a representative of each of its members and the Executive Director.
President
Mr. Alix Laurent
Executive Director
École supérieure de ballet du Québec
Vice President
Mr. Bruno Robitaille
Executive Director
École nationale de la chanson
Treasurer
Mr. Jean Hamel
Executive Director
L'inis
Secretary
Mr. Tim Roberts
Executive Director
École de cirque de Québec
Mrs. Chantal Boulanger
Executive Director
Association des écoles supérieures d'art du Québec
Mr. Marc Hervieux
Executive Director
Conservatoire de musique et d'art dramatique du Québec
Mr. Éric Langlois
Executive Director
École nationale de cirque
Mr. Luc Pelletier
Chief of Staff
National Theatre School of Canada
Mr. Francisco Rendiles
Director of Studies
Musitechnic
Mrs. Louise Richer
Founding Executive Director
École nationale de l'humour
Mr. Yves Rocray
Executive Director
École de danse contemporaine de Montréal
Mrs. Isabelle Sentenne
Director
Institut des métiers d'art
ADÉSAQ's partners include the ministère de la Culture et des Communications du Québec, Savoir média and Compétence Culture. The Association is a member of Compétence Culture and Culture Montréal.